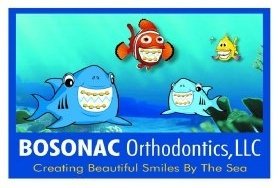 Thank you to Bosonac Orthodontics, LLC - Dr. Stephen D. Bosonac & Dr. Brian Bosonac for sponsoring our 2022 FREE Summer Movies Guide ~ Seaside Heights to Toms River + More so we can bring you all the summer movie fun at the Jersey Shore.
With over 45 years of providing orthodontics in
Brick
and Clark, their
orthodontists and team
can give you a smile that will enhance your confidence and improve your oral health. In fact, they are now seeing their third generation of patients! No matter at what age you start your treatment, Bosonac Orthodontics want you to feel at-home and comfortable. Their team will be with you every step of the way, and they will take the time to learn all about you and your family and not just your smile.
It's a Jersey shore tradition - movies on the beach! All you need is a beach chair and blanket to enjoy a free family night under the stars! Here's where you can find all your free local outdoor movies this summer. In the case of inclement weather or high wind, always remember to check with the location ahead of time. As a bonus, we also have Marquee Cinemas Free Summer Kids Movie Program listed for those Tuesdays and Wednesdays that get washed out by the rain.
Sundays - Seaside Heights Carteret Avenue Beach
Tuesdays - Free Indoor Movies at Marquee Cinema
Tuesdays - Lavallette Gazebo on the Bay
Wednesday - Free Indoor Movies at Marquee Cinema
Fridays - varies
Seaside Heights shows movies at Carteret Ave Beach every Sunday weather permitting. Movies start at 8:30 pm (or dusk). Don't forget your beach chair or blanket.
Lavallette has Movies on the Bay on Tuesdays this summer at the Lavallette Gazebo on Bay Boulevard. Showtimes is aprox 8:30 pm (or dusk). Closed Captioning and handicap accessible restrooms are available. In case of inclement weather, the movies will be held 8pm at the Lavallette First Aid.
Marquee Cinemas is bringing back their Summer Movie Program with free movies Tuesday and Wednesday mornings at 9:30am - 2 movies to choose from. Seats are first come, first served so get there early.
Reach thousands of families that live or vacation at the Jersey Shore by sponsoring our 2022 Free Summer Movie Guide. Email melissaw@macaronikid.com to find out how.